PHOTO: GETTY
'Why I Won't Miss My Kids at Summer Camp'—and Other Parenting Truths
It was 6 a.m., but family cars already lined the shady Seattle street where my husband and I were dropping our 11- and 14-year-old boys off for the camp bus.
Kids were greeting summer friends, parents were hefting luggage and checking name tags.
Soon our sons were being greeted by a couple of cheerful counselors who looked impossibly young to be tasked with shepherding a group of kids across the border to Canada and onto a ferry.
After final hugs, reminders about sunscreen and the traditional pre-camp snapshot, we watched the boys climb aboard and find seats with friends for the long ride. Then the big yellow bus lumbered off down the street. We waved until it disappeared from sight.
I didn't cry.
All summer, status updates on Facebook attest to how much parents miss their kids at camp. Mothers anguish over whether their children are happy or not or worry about making it through the summer with little communication—or too much—from their kids. There are even tips for "surviving" a child's absence.
I read all this and for a moment I can't help wondering if I'm an unnatural mother—or whether the ubiquity of stories like these just makes it seem that way.
Because frankly, when that bus rolls away every year, what I feel is exhilaration.
True, there's an initial, disconcerting sensation, as though something in the universe is amiss. Half of my family has just vanished, after all, and that takes a bit of adjustment.
But sadness doesn't come into it. My boys love summer camp, and I know that the next three weeks—full of adventures, singing, games, and camaraderie—will be happy ones for them.
As they'll be for my husband and me.
When the bus is out of sight, we turn to each other giddily. It's as if we've stepped into an alternate universe, one in which we decided not to have children after all.
It's a thrilling place to be. During our three weeks alone here, we will never utter sentences like, "And if you lived in Noah's house, you could play Minecraft all day long, too," or "Yes, but did you do your chores today?"
There will be no outrage over who got the last popsicle, nobody flipping anyone off, and the tile floor around the toilet will remain a pristine white.
Must I pause here and say that I love my boys, really I do? I hope not. I hope that's a given. They are decent kids: funny, smart and good-hearted, no more challenging than most of their peers.
But still.
Sometimes it feels as though the arguing, the complaining, and the whining will never end. It's all developmentally appropriate. Teens and tweens test limits. They are often unappreciative, self-centered and lazy. They'll be kind, caring adults one day, no doubt. But right now, they exhaust us.
Their time at camp is a respite for my husband and me, an oasis in the busy, tumultuous year, a break from the often daunting task of seeing two young people safely into adulthood.
In their absence, we're able to assess our parenting more objectively, talk about what works and where we can do better—discussions that can be difficult amid the rest of the year's everyday wrangling.
And it's a time to focus on each other. While our boys are away, the two of us will eat leisurely meals together, composed of ingredients our children still refuse to consume.  We'll have long, rambling conversations, quiet evenings on the front porch with our books, weekends when we do exactly as we please.
There will be romance. Lots of it.
I'm all too aware that in just a few years, my husband and I will have more time alone than we might want. Our boys will be off at college, then out in the world for good. But it's right now that we really need a breather.
It's now that we appreciate these three weeks of camp and what they give us: a chance to reconnect with each other—and the perspective we need to welcome our children home.
Joyfully.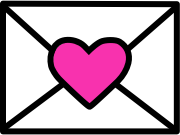 Sign up to receive
instant happy in your
mailbox every day.