PHOTO: BECKY FEINER
This Alphabet Tells an Awesome (and Completely) American Story
An Aussie graphic designer, illustrator and mom of two has a very American story to tell kids—one letter at a time.
Becky Feiner, based in Sydney, has created a new graphic alphabet, featuring "legends" from all walks of American culture, from "M" for Marilyn Monroe to "R" for Rosa Parks to "V" for Victoria Woodhull.
Feiner's inspiration began on her home turf (naturally), where she was inspired to create the Aussie Legends Alphabet earlier this year as a way to brighten up her kids' rooms while helping them learn their ABCs and a bit of Australian history at the same time.
The poster was a hit, attracting national attention to Feiner's work—as well as a home for her alphabet in the National Library of Australia.
"It's been a crazy ride," Feiner said. "You never know how your work is going to be received but I was blown away by the positive support. So many schools have ordered the poster, and a brilliant publisher and I are in the process of turning it into a book."
The designer said she decided to tackle American legends next because of her country's ongoing love affair with America.
"The U.S. has such a huge influence on Australia," she said. "American culture permeates every aspect of our culture, especially when it comes to politics, film, music, fashion and sport. Even food. While Australians are very patriotic, we really have a massive crush on the U.S."
As with the original version, the American Legends have a message for kids—and their parents.
"One of my main goals is to help parents teach their kids that what makes society so great is that it's made up of such a diverse mix of influencers," said Feiner. "This includes genders, all ages, races and religions. There's never been a more important time in the U.S. to teach this."
Still, getting down to 26 "legends" who fit the alphabet was no easy task.
"My rule was I had to try and imagine the U.S.— and popular culture in general—without that person," explained Feiner. "But sometimes that didn't help. I had to choose between Beyonce and Bruce Springsteen. It was like picking my favorite child!"
Spoiler alert: Queen Bey won.
Feiner said one plus of having to make such choices is that "it helps to make the Legends Alphabet a real conversation starter. In the Australian media, some really healthy debate has erupted over whether certain people deserve to hold their letter," she said.
"I also realized I am never going to make everyone happy. It's my own opinion and I've chosen people that I think are good role models for my own kids."
You can see if you agree with Feiner (and buy the poster) here.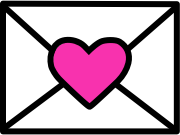 Sign up to receive
instant happy in your
mailbox every day.