People Are Good: A Teacher Just Donated Her Kidney to One of Her Students
A teacher is someone who helps to shape a life. And Beth Battista, a Wisconsin preschool teacher, has just locked up Teacher of the Year award—because not only is she shaping lives, she's saving them.
Battista's student Lyla Carreyn had been fighting a year-long battle with rare autoimmune disease microscopic polyangiitis. The five-year-old needed a kidney transplant, and while her family searched for a possible donor, Lyla was dealing with 12-hour-a-day dialysis treatments just to stay alive.
Battista watched her student battle and saw her family's heartbreak after multiple nationwide searches failed to find a donor. It broke her heart.
"She deserves a normal life, one where she can learn and explore, like any other 5-year-old," Battista told Inside Edition.
So she decided to get herself tested to see if she was a match. And somehow, thankfully, she was.
"I've always had a feeling that there was something more that I was supposed to do in my life," Battista told Inside Edition.
Back in September Battista gave Lyla's mother the news she was a match by delivering a note during a parent/teacher conference:
"I may just be her teacher now, but soon a little piece of me will be with Lyla forever. I'm Lyla's kidney donor."
A moment that was caught all on tape.
And on February 22, Battista successfully donated her kidney to Lyla. Both are recovering nicely.
Battista went home after just two days in the hospital, and Lyla will be able to go home soon—and go home a very different and more able little girl, thanks to her teacher.
H/t: Inside Edition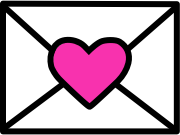 Sign up to receive
instant happy in your
mailbox every day.