This Is a Thing: Unicorn Food Is the New Pumpkin Spice…or Something
Every time I turn around, the internet gets a bit more magical, thanks to the 'unicorn food' trend.
A quick scroll on your Instagram 'explore' page or a 60-second video on your Facebook feed is all it takes to get hooked on how captivating—and creative—these rainbow colored delicacies are.
While this trend isn't new—unicorn treats started catching on early last year—it's not showing signs of slowing down anytime soon.
Unicorn noodles are the newest multicolored foods to blow up on social media…
…and cafes advertising unicorn lattes (which get their colors from natural ingredients like blue algae and turmeric) are becoming the norm in Brooklyn and Portland.
The magic is a lot to keep up with, so here's a master list of popular unicorn-themed snacks, desserts, and drinks to have on hand next time you put your culinary skills to the test…or decide to order.  Because these babies take some skill.
2. Unicorn macarons
3. 'Unicoreos' (Unicorn Peeps-flavored Oreos)
4. Unicorn toast
5. Unicorn cosmos
6. Unicorn cake
7. Unicorn milkshakes
8. Unicorn doughnuts
9. Unicorn pancakes
10. Unicorn 'poop'
11. Unicorn cookies
Want all of your unicorn food in one place? Hop on the next flight to Thailand and visit the Unicorn Cafe.
Every meal, from their entrees to their desserts to their drinks, is drenched in color—worthy of OG unicorn posse Jem and the Holograms.
Because rainbows have always been cool.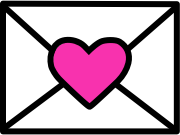 Sign up to receive
instant happy in your
mailbox every day.