PHOTO: UNIVERSAL PICTURES
According to Pinterest, No One Is Having Bridesmaids Anymore
A wedding without bridesmaids? Interesting.
Being a bridesmaid can be a joyful, fulfilling, and heartwarming experience.
But it can also be complete hell. You know this. You've seen Bridesmaids.
Depending on how many ladies are in the bridal party, it can be difficult to coordinate wedding-related activities given everyone's busy schedules.
There's also the matter of money—between the dresses, bridal shower, and bachelorette party, expenses can really add up. The average person just doesn't have the extra cash lying around, especially when there are multiple weddings lined up.
Bless 2017 for bringing in the latest, money-saving wedding trend: no bridal party at all.
According to Pinterest, more and more brides are choosing the no-bridesmaids option. The platform reports a 100 percent year-over-year increase in related searches.
It might seem like a snub to your friends, but even if there's no bridal party, your best ladies can still attend the wedding and share in the special day.
And plus, it's less stress for everyone—less organizing for the bride, less financial burden for the bridal party.
When you think about it, it's a win-win.
H/t: HelloGiggles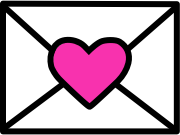 Sign up to receive
instant happy in your
mailbox every day.