PHOTO: MARLEEN BROOKS
90-Year-Old Wanda and Her New Friend Are Finding Pals for the Elderly
Marleen Brooks, a Missouri resident, returned home to find a note from an elderly woman, one who lived "just down the street."
"Mrs ? Would you consider [becoming] my friend?" the note began.
"I'm 90 years old—live alone. All my friends have passed away. I'm so lonesome and scared. Please. I pray for someone."
From then on, Brooks would have a new friend named Wanda: the gray-haired senior who had written to her.
Since Wanda reached out to Brooks, the two have become inseparable.
"Wanda and I are now great friends! I visit her often and my kids bring her cookies. She knows anything she needs she can call me if I'm not there. She is an amazing person and I am blessed to have her."
WATCH: 80-year-old Baddie Winkle took over Instagram in early 2017. (Post continues below.)
But Brooks knew that her role didn't have to stop with Wanda. She has since organized a Facebook group called Pen Pals for Seniors, a forum for the old and alone to find friends online.
A beaming Brooks had this to say to Spring.St:
"I am super busy with the group (almost 6,000 members now) that was inspired from all this."
Moderators have a zero tolerance policy for bullying on the page while maintaining a routine screening process for prospective members.
They urge:
"Remember to reach out to someone today—it may just be life-changing."
You can request to join Pen Pals for Seniors here. If you'd like to read Brooks' original post on Love What Matters, see below.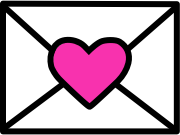 Sign up to receive
instant happy in your
mailbox every day.