Here's Solid Proof That Every Oprah Needs A Gayle
Everybody knows Oprah Winfrey as the powerhouse who has created a media empire that inspires women everywhere.
What's the secret to her success?
Winfrey often says she wouldn't be where she is today without her best pal, Gayle King. The pair has been friends since their early 20s and gone through it all together.
Indeed, it's hard to watch these two and not want to call your best friend immediately.
In an interview with O Magazine, Winfrey summed up her relationship with King this way:
"There isn't a definition in our culture for this kind of bond between women... How else can you explain a level of intimacy where someone always loves you, always respects you, admires you? Wants the best for you in every single situation of your life. Lifts you up. Supports you. Always! That's an incredibly rare thing between even the closest of friends."
Grey's Anatomy coined the phrase "your person" for just this kind relationship but we think it can best be better summed up as "Gayle to your Oprah."
Who's your Gayle?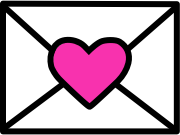 Sign up to receive
instant happy in your
mailbox every day.