PHOTO: GETTY
News Bite: Michelle Obama's Flawless Farewell on 'The Tonight Show'
I'm not crying, you're crying. Actually, the whole world is crying. Last night's episode of The Tonight Show Starring Jimmy Fallon was dedicated entirely to Michelle Obama.
It's not the first Michelle Obama Tonight Show appearance—she's been a frequent guest. But every segment was, unsurprisingly, perfect—from Obama surprising fans saying their emotional farewells to her official portrait, to Stevie Wonder singing 'Isn't She Lovely'.
She played 'Catchphrase' with Dave Chappelle and Jerry Seinfeld.
"I like this side of the desk," she said to Fallon in the 'Thank You Notes' segment, sparking hope in millions that maybe we're going to at least get a Michelle Obama show, if not a third Obama Presidency.
Thank You Notes: @FLOTUS Edition! #FallonTonight https://t.co/4skOLXIL4B pic.twitter.com/8x2m6pXUWS

— Fallon Tonight (@FallonTonight) January 12, 2017
She thanked her mother, spoke about the importance of family, and shouted out to the many people behind the initiatives she's worked on—emphasizing just like her husband did earlier this week that there's still a lot of work to be done.
As in everything else ever during her time as First Lady, she was wonderful.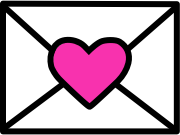 Sign up to receive
instant happy in your
mailbox every day.