PHOTO: SUSTAIN
Meika Hollender Was Sick of the Way Condoms Were Sold. So She Changed It
Meika Hollender is in the condom business with her dad—but hear her out.
"To many, a family condom company can sound a bit shocking, but my family has deep roots in creating sustainable products," she tells Spring.St.
Over 30 years ago, her parents founded Seventh Generation, which creates eco-friendly cleaning and family products.
But she and her father's goals for their new company, Sustain, go beyond a commitment to protecting the environment. Hollender couldn't help but notice that products such as condoms and lubricants contain harmful chemicals—therefore disregarding the health of women whom these products go inside of.
"There was a hole in the market and we saw an important opportunity to create better, safer products," Hollender says.
And thus, Sustain was born—a company dedicated to changing the dialogue surrounding women's sexual health. Hollender told us more about it.
How did the idea for Sustain come to you?
My dad approached me with an idea he'd had many years prior: a sustainable condom company. When we started talking about starting this business, a lot of people asked us, 'Why condoms?'
"Here's why: Oddly, the manufacture of and the ingredients used in sexual wellness products, including condoms and lubricants, can harm rather than help bodies."
In all other categories —from food to tampons—consumers were demanding safer products, but for the most intimate products that actually go inside our bodies, there weren't safer more natural alternatives.
Can you talk about the design of Sustain products and what your vision was? It's so clean and simple, and we love that there's no indication of whether the people on the boxes are men or women.
Thank you so much! We recently underwent a major re-brand and in that process redesigned our packaging. The goal of the packaging was to express the bold, sex-positive brand we are.
Other brands out there try and create "discreet" packaging to appeal to women, but our mission is to empower anyone with a vagina to feel proud about buying products that enable them to take a healthy approach to their sexual health.
The faces were meant to be genderless because we are about celebrating everyone and anyone who wants to get on top of their sexual health.
Why is it so important for women to be able to talk openly about sexual health? Do you think that conversation is getting easier to have?
I think talking about sex and sexual health is the first step to creating a world where women feel no shame or stigma for being their sexual selves. When we don't talk about sex, the subject gets swept under the rug. From there we see things like high rates of unplanned pregnancy, rising rates of STIs, and so on and so forth.
Talking about sex should be as comfortable as talking about any other part of our health and wellness. I think Sustain has done a really great job at being a leader in educating and empowering women to talk about sex, periods, sexual health, etc. in a very real and straightforward way.
Sustain products are available to buy online at sustainnatural.com.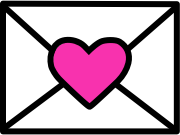 Sign up to receive
instant happy in your
mailbox every day.