Queen of Funny Mindy Kaling Explains 'How to Date'
Whether as Kelly Kapoor or Mindy Lahiri, a best-selling book author or all-around funny film actor, Mindy Kaling always seems to steal the show.
And more often that not, it's a show she's writing and producing herself. It's a trend that continues with her latest project, a sibling comedy, called Champions, which has just been has been picked up by NBC.
One thing is for certain, the woman knows how to write a good screenplay.
Another thing she knows? How to make comedy from relationship woes. Kaling's characters are always over-the-top romance addicts.
In real life, Kaling claims to be nothing like these characters, as she is incapable of having a one night stand or staying up late. Yet, she still manages to give some pretty kick-ass dating advice.
Here, we share Kaling's best real-life advice for dating today.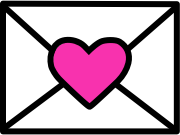 Sign up to receive
instant happy in your
mailbox every day.