Your Tasty Weekend Drink: Irish Cream Chocolatini
Vodka? Check. Chocolate? Check, check!
Our easy recipe combines Irish cream, vanilla vodka and chocolate liqueur. But don't worry, you can always substitute other flavors of vodka for our vanilla choice. (Hint: We tried our recipe with cherry vodka too and it also turned out delicious.)
Enjoy!
Irish Cream Chocolatini
Ingredients:
5oz Vanilla vodka
4oz Irish cream
1oz Chocolate liqueur
What you will need:
Cocktail shaker
Ice
Brown sugar or cocoa powder to rim glasses (optional)
Here's what you do:
Pour vodka, Irish cream, chocolate liqueur into the cocktail shaker.
Add ice and shake
To rim glasses, dip their edges in water, then into a flat plate of brown sugar or cocoa powder.
Fill each glass with martinis, straining to keep out ice.
Enjoy!
This recipe serves four.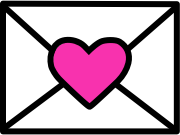 Sign up to receive
instant happy in your
mailbox every day.