PHOTO: GETTY
Halle Berry Says She's Learned To Be a Better Mom Through Divorce
Halle Berry has gone through the pain of three failed marriages but she says while it's certainly been hard to live through, she feels it's made her a better mother.
According to Entertainment Tonight, during a Q&A at the 2017 City Summit and Gala in Los Angeles, on Saturday, the Oscar-winning actor spoke openly about her failed relationships.
Berry's recent divorce from actor Olivier Martinez, with whom she has a 3-year old son, Maceo, was finalized in December. She was previously married to baseball player David Justice, from 1992 to 1997, and singer Eric Benet, from 2001 to 2005. Berry also has an 8-year-old daughter, Nahla, with ex-boyfriend model Gabriel Aubry.
"I have learned to deal with three failed marriages, which has not been easy, especially when there's children involved," she said.
Berry says going through these breakups has lead to a complete change in the way she thinks about love and marriage.
"[As] women, we go into marriage thinking it's going to last forever and that this is our prince on a shiny horse," she said. "That's what fairytales taught me as a kid. I'm kind of anti-fairytales today."
But, she added, "we go in there with that hope, so when it falls apart it feels like a huge failure and a huge disappointment. I've often felt guilty and responsible. I've suffered a lot of pain and anguish."
But it was that pain and anguish that Berry says has lead to her being a more focused and mindful mother to Nahla and Maceo.
"Right now, being mom is my most important job and I now know that everything I do, everything I say and everything I offer them is really important," Berry explained. "I say lots of things, but I think what's more important is that my children watch what I do. I'm more mindful of how I live my life and what they see me do."
She says she's no much more aware that she has to lead by example with her children.
"If I want them to be kind, I have to show them kindness," she continued. "If I want them to be curious, I have to show them my own curiosity. If I want them to be smart, I have to show that I'm continuing to learn every day. If I want them to be humble, I have to teach them how to give and care about other people. If I want them to be grateful I have to make them know that they have to give their toys away once a year and give to others. I've learned it's not just the words—it's what action I put behind those words."
As part of her action-based approach, Berry says she's been involving her kids in her work with the Jenesse Center, a domestic violence prevention center. Berry has been working with the organization for more than 18 years, stemming from her witnessing her own mother falling victim to domestic abuse. Now Berry says she's showing her kids how fulfilling it is to give back to those in need. The family has started a yearly tradition of donating toys to kids in need.
"They get so much out of handpicking each one of those toys and giving that to some other child, telling that child a story and making sure they're going to take care of it," she shared. "It makes them feel really good about themselves."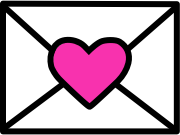 Sign up to receive
instant happy in your
mailbox every day.