From Marilyn and Dolly to Chrissy and Kim K—Hurray for Big Boobs!
Being a big breasted woman isn't always everything it's cracked up to be.
Search "big breast facts" in Google (as we did) and it will spit page after page of listicles featuring the struggles faced by women with a D cup—or gasp, worse! (Fair warning: Don't search "big breast"—that's a part of the internet none of us want to be in.)
At Spring.St, we love women of all body and boob sizes. To that end, we take this moment to celebrate the awesomeness of big-breasted women.
Larger breasts look great in all types of necklines
You never have to worry about not filling out a blouse when you have a larger bust, leaving a lot more room for every style possibility.
Science says staring at large breasts for 10 minutes a day is good for your health
According to German study from 2013, people who stared at large-breasted women for at least 10 minutes everyday report lower blood pressure and resting heart rate.
The largest bra in the world is a size 102ZZZZ
Annie Hawkins-Turner has made millions with her all-natural record-breaking bust. Each breast weighs 65 pounds. And speaking of weight...
The average D cup breast weighs about 1.5 lbs
You can see a more precise estimate of your own breast weight here.
Your right breast is probably bigger than your left one
On average, most women's right breast can be up to 1/4 a cup size larger than their left breast.
Humans are the only species with permanently enlarged breasts
Monkey and other mammal breasts "deflate" when not in uses for breastfeeding; however, human breasts stay "full" even when they are not in use.
Straight men and straight women stare at cleavage the same amount when talking to women
A 2013 study found that it's not just straight men who need the My eyes are up here memo.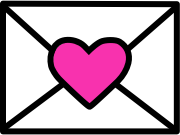 Sign up to receive
instant happy in your
mailbox every day.