PHOTO: GETTY
Five Plus-Size Fashion Bloggers You Need to Follow on Instagram Right Now
I love Instagram.
There's nothing better than stumbling across a real person, who's buying clothes you can actually afford and styling them in a way that inspires you to step out of your comfort zone and give it a go yourself.
If like me, you're on the curvier side, you know how hard it is to find clothes that are fun and don't look like leftover tents from a traveling circus.
To help you out, I've rounded up five of the best plus-size fashion bloggers—you should definitely give em' a like on Insta.
Styling Curvy
Jenni Eyles is size 18ish and she buys all of her amazing clothes from Australian designers like Bohemian Traders and Adrift.  She's also a breast cancer survivor and a body confidence advocate.
And she's soooo funny.
Suzie Stevens
Suzie Stevens is a plus size model and she wears brands like Hope and Harvest and Gorman. She has a lot of fun with color and you could spend hours scrolling through her feed.
Clair Seymour
Clair Seymour is a Brisbane-based plus size blogger, check out her Instagram for little black dress (LBD) inspiration and really cool casual outfits.
Hayley Hughes
Hayley is a pink and rainbow lover from Melbourne and her outfits are nothing short of awe-inspiring. It's like the cast of Sex and the City had a run in with a box of crayons. Just looking at her Insta feed makes me happy.
Mandy Leigh
Mandy wears all the brands you know and love—like City Chic, ASOSCurve and 17 Sundays—and she just wears them so well. She puts together outfit combo you wouldn't have thought of, hit up her Insta when you need a little wardrobe motivation.
This post originally appeared on Mamamia, Spring.St's Australian sister site. You can read it here.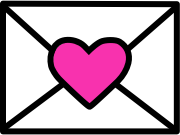 Sign up to receive
instant happy in your
mailbox every day.