Before They Were Famous: The Endearing First Auditions of 6 Celebrities
For actors, auditions are the root of much anxiety—they really have to put themselves out there in a vulnerable position in order to get the parts they care about, and it doesn't always work. With fame, of course, comes more ease. But actors' first auditions for their breakthrough roles are extremely interesting to watch.
Here are a few of our favorites.
1. Gilda Radner
Before becoming one of SNL's most famous leading ladies, Radner did this screen test.
2. Natalie Portman
11-year-old Portman scored her first breakthrough role after this audition for Leon: The Professional.
3. Gwyneth Paltrow
Before her breakthrough role in Shakespeare In Love, Paltrow auditioned for a role that was arguably as iconic, Ellie in Jurassic Park.
4. Gabourey Sidibe
After watching Sidibe's audition for Precious it's easy to see how she got the part. Chills.
5. Katlin Olson
When Olson showed up to this audition for her role as Dee in It's Always Sunny in Philadelphia she most likely had no idea she was signing up the longest-running comedy in television history—as well as joining a cast with her future husband.
6. Lea Michele
When Michele auditioned for the part of Rachel Barry on Fox's Glee, she thought she'd messed it up terribly. However, she later found out the way she responded to her screw-ups was so naturally in character, the casting directors had to give her the part.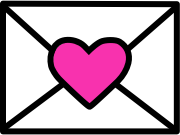 Sign up to receive
instant happy in your
mailbox every day.