PHOTO: GETTY
Drew Barrymore Says Filming 'Santa Clarita Diet' Got Her Through Divorce
Drew Barrymore says that working on her new Netflix show, Santa Clarita Diet, helped her when she was going through her divorce.
During a Netflix panel to discuss the show, Barrymore recalled that Santa Clarita Diet was filmed while she was in the midst of her divorce from Will Kopelman, according to news.com.au. She explains that spending the summer playing a woman going through what she calls "an awakening," and working with the show's creator Victor Fresno and co-star Timothy Olyphant, both of whom are happily married, was incredibly helpful.
"It was such a safe place for me to spend the summer while my whole life was falling apart," the actress said, adding that although the circumstances for their huge life changes were very different, she connected with her character, Sheila.
"I was excited about playing a woman who was becoming empowered, losing weight and pulling her shit together, finding a new confidence and finding that when your life does fall apart, you don't ditch everything in it. Not everything goes away," the actress said. "You have to become you and take all the wonderful things in it and find these new roads and for me it was a total metaphor for more life. I felt really lucky."
The mom of two, says Santa Clarita Diet couldn't have come into her life at a better time, professionally, either:
"I hadn't been working for years. I was a mom and I had stepped aside and put everything on the back burner. I had done two movies in eight years and for me, this was such a lucky, fortunate thing."
Added Barrymore, "Timing is everything. That's the next tattoo I'm going to get. This came at the right point in my life."
H/t: news.com.au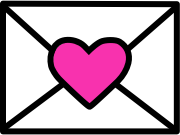 Sign up to receive
instant happy in your
mailbox every day.