PHOTO: GETTY
9 Celebrity Mama's Boys. Because Even Superheroes Need Their Moms
They may be macho international superstars, but even the burliest of men needs their mama from time to time.
The following are nine celebrities who have gone out of their way to make sure their best girl knows how special, needed, and appreciated they really are.
1. Chris Evans
Happy Mother's Day! Chris Evans with his mom at the Oscars, GLAAD, CA:TWS & Age of Ultron premieres. #MothersDay pic.twitter.com/vf1kfhQHsY

— CHRIS-EVANS.NET (@chrisevans_net) May 8, 2016
Chris Evans may save the world but his mom Lisa Evans fights for him. In a 2012 interview with Playboy, Evans explained that his mom bickers with people who have not-so-nice things to say about him on the internet.
"Yeah, she's one of those moms. She gets a little up in arms. The internet is a big place where a lot of people can voice their opinions, and my mother chooses to pick fights with random people from all over the world who don't have the nicest things to say about me."
2. Drake
In addition to writing songs for his mom, Sandi Graham, Drake also says some very nice things about her.
In a 2013 interview with The Huffington Post (via E! News),, Drake said his mother was his inspiration:
"My mother is an incredible woman...I talk about her a lot on this album [Nothing Was The Same]. She's brought me to this point single-handedly…She's the most important person in my life."
3. Bradley Cooper
Bradley Cooper and his mom, Gloria Campano, were spotted taking a stroll together in NYC https://t.co/9NpLDmfpfS pic.twitter.com/t1PXg8Rb1E

— Team Bradley Cooper (@TMBradleyCooper) December 11, 2015
Bradley Cooper's mom Gloria Campano took care of him for so long that when his father suddenly died in 2011, he tried to return the favor.
In an interview with Details in 2013, Cooper revealed that he as living with his mom.
"She's a cool chick. We can hang. And she can roll with the punches. If that wasn't the case, there's no way…It's not like I live in a compound and she's in the guesthouse. No, she's in the next room."
4. Shia LaBeouf
Shia LaBeouf is actually a little obsessed with his mom Shayna Saide.
In a 2009 interview with Playboy, LaBeouf really praised his mother.
"Probably the sexiest woman I know is my mother. She's an ethereal angel. Nobody looks like that woman. If I could meet my mother and marry her, I would. I would be with my mother now, if she weren't my mother, as sick as that sounds."
5. Leonardo DiCaprio
Leonardo DiCaprio regularly brings his mom Irmelin Inderbirken as his date to award shows.
During his acceptance speech at the BAFTA's in 2016, DiCaprio gave special thanks to his #1 girl.
"I would not be standing up here if it weren't for this person. I didn't grow up in a life of privilege. I grew up in a very rough neighborhood in East Los Angeles, and this woman drove me three hours a day to a different school to show me a different opportunity. It is her birthday today. So Mom, happy birthday. I love you very much."
6. Matthew McConaughey
with mom #tbt pic.twitter.com/FLnwnjUMat

— Matthew McConaughey (@McConaughey) June 4, 2015
Matthew McConaughey's mom Kay knows how to have a good time.
In an interview with Esquire, McConaughey explains that his mom, whom he calls K-Mac, is actually better at partying than he is.
"I do not remember the last time when we partied when she didn't go to bed after me and get up before me. She's gonna want to jam on some Kendall-Jackson [wine] tonight.'"
7. Ryan Gosling
Ryan Gosling really knows how to make his mom Donna feel special.
During an appearance on the Graham Norton Show earlier this year, Gosling revealed that during the 2007 Oscars he went out of his way to make his mom know how beautiful she is when she was worried about how her hair looked.
"I wanted to have a nice night, so I didn't know Meryl Streep but she was sitting next to me and I said in a commercial break, 'Would you mind just telling my mom you like her hair?' And she was like, 'I got this.' And then the commercial went and she goes, 'Do you know, I was gonna do a beehive and I wish I had.' And my mom was like, raise the roof all night."
8. Justin Timberlake
Justin Timberlake's mom Lynn Harless sacrificed a lot to get him started in show business so early.
In an interview with Rolling Stone in 2003, Timberlake spoke about how grateful he is to have a mom like his:
"We have a very special relationship. She's been my best friend since I figured out who I wanted to be. She's great, and such a fun woman. She goes out with me and stays out later than I do. She's always been there beside me, and I think that's part of my problem with girls. You keep searching for somebody as good as your mother, and that's a losing battle."
9. Dwayne "The Rock" Johnson
People's Sexiest Man Alive, Dwayne "The Rock" Johnson explains how much his mom means to him better than anyone else can:
Moral of the story? Being nice to your mom will help you become the sexiest man alive.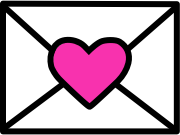 Sign up to receive
instant happy in your
mailbox every day.