Celebrities Share the Stories of Their (Very Awkward) First Kisses
We hate to break it to you but even celebrity first kisses aren't what they are in the movies.
We know for "regular people" the experience is probably not Spiderman-upside-down-rain-level special.
After all, there's probably no music, there's almost certainly no magic moment—and more often than not, there's too much tongue, saliva, a potential teeth clash... anything can go wrong really.
And the rich and famous aren't immune to these problems either. From Mindy Kaling to Nicole Kidman, to Eva Longoria's "Cheetos" kiss... we've rounded up some of our favorite celebrity first kiss stories, here.
It's a nice reminder that we've all been there.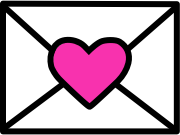 Sign up to receive
instant happy in your
mailbox every day.