PHOTO: YOUTUBE / SOCIETY OF WOMEN ENGINEERS
Cara Adams Will Be the Only Female Chief Engineer in the Pits at Indy 500
As anyone who is a first in their field knows, the only way to gain respect is to know your stuff—and know it better than anyone else.
That was certain the lesson Cara Adams learned in her early years as the only female engineer in the IndyCar pits, where drivers typically assumed she worked in PR or marketing.
"I would ask: 'Can you tell me if the new tire construction we introduced this weekend affects your car's mid-corner to exit understeer?'" she told Fortune.
WATCH: Cara Adams talk dream jobs for the Society of Women Engineers. (Post continues below.)
Yes, Adams, 38, knows her stuff. She also has a long impressive career in racing and tires, which has led her to lead Bridgestone's Race Tire Development team, which is responsible for the design, development, and track-side support of the Firehawk Firestone tires used by every race car driver in IndyCar.
On Sunday, Adams will serve as the team's chief engineer at the Indianapolis 500, making her the only female chief engineer at Sunday's 101-year-old race. (According to Fortune, she is one of only four female engineers in the IndyCar Series overall.)
As one of so few women in a male-dominated sport, Adams says she's certainly had to create her own path. For example, she's had to ask mechanics not to call her "hun" or "babydoll." (They usually stopped once she explained that it made her uncomfortable.)
She's also developed a bit of fan club. At a race last month, she was told she had a "fan" outside the race trailer. When she stepped out, Adams found a girl of about 12 standing with her family.
"She told me she wanted to be an engineer and work in racing when she grew up. Then she asked me to sign her hat," said Adams. "It was really neat."
H/t: Fortune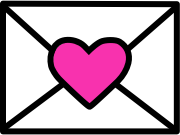 Sign up to receive
instant happy in your
mailbox every day.