The Best 2017 Wedding Dresses for the Non-Traditional Bride
There was once a time when wearing anything other than a modest, white gown for your wedding day was considered garish and inappropriate.
But in 2017, brides are throwing out the rulebook. It's all about infusing your personal style into your special day, and the dress is no exception.
Spring.St headed to New York magazine's wedding event to scope out the newest wedding dress styles that brides are loving this season.
Here are some of the best trends we stumbled across.
1. Separates
Your wedding dress doesn't even have to be a dress.
Lovely Bride bridal shop offers a unique selection of separates for the bride who wants to mix it up a little.
2. Overlay 
Sheer overlays are also becoming more and more popular. Lovely Bride tells us that some brides wear a slip underneath, while others opt for a bodysuit.
3. Fitted lace
According to Spina Bride, brides are getting a little more risque with their choices. Fitted lace is a great way to show a little more of your figure while still keeping it somewhat traditional.
4. Feathers
Feathers are not off the table when it comes to bridal attire.
5. Beachy style
Whether you're having a beach wedding or not, this look is soft, elegant, and perfect for your special day.
6. Unique fabric
Carol Hannah creates stunning custom wedding gowns that experiment with fabric, texture, and color.
Think about it this way: Perhaps your wedding look can be your "something new."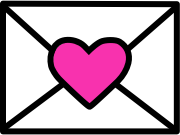 Sign up to receive
instant happy in your
mailbox every day.