Barton Gives His Mom 20 Adventures for the 20 Years She Nursed Her Husband
Barton Brooks and his mom have always been close. As a child she taught him the value of adventure and living life to the full.
"She made most every day brighter for me, and I could always count on her to be game for a little fun. She'd even go waterskiing with me and my friends AND SKI when she was in her 50s," Brooks writes of his mom.
And after 30 years as a teacher, Carla Brooks was looking forward to retirement. She planned to spend it traveling with her husband. But nine months beforehand, he had a stroke, and she had to drop everything to look after him.
"Her plans were changed in an instant, and from then on she basically took care of him 24 hours a day, seven days a week, for over 20 years—until he passed away last year," Brooks writes.
"Now that he's gone, she's been completely lost as to who she is without him, who she is without someone to care for, and she just can't seem to find her old adventurous self."
So he decided to help his mother find that spark again.
The solution? A round-the-world trip, 20 adventures in 20 weeks, for Carla, Barton, and his partner, Gregg Goodbrod.
"I told her I was taking her on an adventure to Paris, but what she doesn't realize is that she'll be gone for MONTHS—Paris, Barcelona, Rome, Munich, London, and everywhere in between! We're going on a learning tour—basically teaching an old dog new tricks!

"Although in this case the dog is my beautiful mother, and 'tricks' are things like making croissants in Paris, glass-blowing in Venice, and impressionist painting in the south of France. She gave me her love of adventure—so I'm going to give her an adventure to love!!"
The trip is being beautifully documented on both Carla and Barton's Instagrams.
Eating a crêpe by the Seine
Making French pastries
Hangin' in the Alps
Stonehenge selfies
Meeting the locals
Family goals
Because sometimes, nothing beats a mother-son holiday.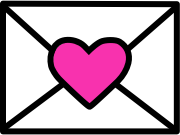 Sign up to receive
instant happy in your
mailbox every day.