PHOTO: AP PHOTO/CARLO ALLEGRI
Charlize Theron on Her Atomic Blonde Role: "Hell Yes, She's Empowering."
For Charlize Theron, executing the intense fight scenes and eye-popping stunts in her new movie Atomic Blonde—in which she plays Lorraine Broughton, an unyielding, unrelenting MI6 agent—wasn't just about proving that she could do it.
It was also about proving to herself she could do it at age 40—and flipping the action movie genre on its head along the way.
"If you made Lorraine a man, the story and everything that happens would remain exactly the same," Theron told Spring.St. "And that is something I'm very proud of.
"And can I just say, it's not about fighting like a guy, acting like a guy, being a guy—it's about embracing who we are as women and using what we have to get the same, if not better, result," said the South African-born Oscar winner (for 2004's Monster).
"You know, she uses her f*cking high heel—that was, like, poetic to me. I loved it."
Is it fair to say Lorraine is a genre-defining character?
Yes, totally. I think she breaks the rules as an action character. Her motivation is not only a need to survive but also her need to win badly, at any cost.
She has to win, that's her lifeblood, and she's playing by the same rules men play by in this harsh, icy world.
She is a gender-neutral, interchangeable character that I hope we'll see more and more on the big screen. My hope is for movie storytelling to evolve in that direction.
That was most of my motivation in playing Lorraine because I was looking for a character who had the interchangeability, someone who could exist in both spaces occupied by men and women. The same rules that men live by.
Do you consider her an empowering character for women?
"Lorraine is a character who is doing her job, who is the best at her job and never at any point is there reference to her uniqueness as a woman—or her ability to bear children," says Theron.
She has a vagina—for some reason that makes a big difference—but that is never present here. So, hell yes, she's empowering.
There's a fight scene that goes on for seven minutes… it's incredible what you do.
We set the standard really, really high. I wasn't sure if I was going to be able to do any of it, but there were no effects, no magic. This was all practical.
And your biggest injury was your teeth? How did that happen?
Lesson for the day, kids: Do not get so frustrated with yourself that you clench your jaw so tight because it breaks your teeth! It's not worth it, don't get so mad.
It wasn't a cool story like getting punched. I did it in training and was biting down so hard I broke them!
How did you come home and be a mom with broken teeth, bruises and cuts? 
Some nights, it was painful to pick up my kids (son, Jackson, 5, and daughter August, 2), everything hurt. My muscles were in agony. Sometimes the older one would jump on me, want to play and I was crying inside, but I never showed it. My mom was out here with me while we were filming to look after my kids.
My mom was out here with me while we were filming to look after my kids. I'd come home in the evening, a little battered and shaken and she'd look at me and say, "Do you have to put yourself through this? Why do you have to do everything?"
And I was like, "Don't worry, I know what I'm doing. I've made this commitment—this is what I have to do."
Even though my body was like, Please, it's been six months, please stop.
Your sex scene with Sofia Boutella—was there significance for you both being in a same-sex sex scene? 
This was never about a gay relationship. It was about Lorraine exhibiting and allowing herself to be vulnerable with someone who reacts and shares her vulnerabilities and plays up her difficulties with intimacy.
It didn't matter whether it was a man or a woman but I'm glad it was a woman. I didn't want the only time she allows those guards down, only briefly, to be with a man, to be about a man.
You've always been known for being a very independent-minded and assertive woman. How do you balance that with the sexy side to your image?
Being intelligent is just as much a part of being sexy as anything else about a woman. I've always admired and been drawn to women who are motivated and ambitious. Ambition in a man is seen as being very attractive and inspiring, but an ambitious woman is usually regarded with suspicion or hostility. It's considered unfeminine.
I was lucky to have the best female role-model a young girl could ever have. My mother is an intelligent woman who was already dressed and ready for work at 7 in the morning when she would come into my room to get me up and ready for school.
She was a career woman who ran her own business and has always been a very positive force in my life. She still gets up at 5 a.m. in the morning to go hiking with her friends!
She taught me to be self-confident and not afraid of anything.
Has having children changed your perspective on work or the way you look at things in general in life?
They have absolute priority. Before, I had the freedom to be able to grab my bag and take off to anywhere in the world that I wanted to be. Now I really enjoy the fact that my children are dictating my life.
I feel like a soldier who is being commanded to go in a specific direction. So as far as my work is concerned I certainly have to do a lot more planning and give a lot more thought to my schedule and how I manage my routine with my kids.
But I still find the creative aspect as stimulating as ever. It's like getting a shot
of adrenaline each time I get to make a movie!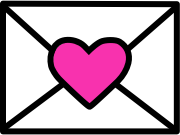 Sign up to receive
instant happy in your
mailbox every day.