Anna Faris and Chris Pratt Know How to Have a Good Time
Anna Faris and Chris Pratt are diamonds in the comedy rough. The couple generally tend to stay out of the public eye, but it seems wherever they go, fun follows.
917am. Chris is finding inspiration for his speech. pic.twitter.com/F7CdnRD2vl

— Anna Faris (@AnnaKFaris) April 21, 2017
The pair, who met on the set of their 2007 movie Take Me Home Tonight,  have been happily married for eight years.
Faris first realized they were "meant to be" when they discovered that they both collect dead bugs, which is the most amazing reason to be a couple I've ever heard.
Faris also has a podcast, Anna Faris Is Unqualified, in which she regularly discusses her relationship with her husband. Quite frankly, it's very enjoyable to hear about.
They share a four-year-old son named Jack, who seems to enjoy their company as much as I imagine I would.
Jack told me that he could give his sweater a hood. I said "prove it!" So he did. And everyone was happy. pic.twitter.com/bnMNQOkAl4

— Anna Faris (@AnnaKFaris) April 27, 2017
But what really makes this pair great is how relatable they manage to stay. They openly discuss their experiences with jealousy and insecurity. But they never fail to restart the day with a smile.
These two know how to have a good time, and we love watching them have it.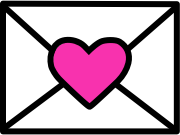 Sign up to receive
instant happy in your
mailbox every day.