These Are the Best Alternative Wedding Cakes, Because Normal Is Boring
The season of weddings is upon us.
Whether you're planning your own nuptials or planning on attending a lot of other people's, you're likely to be sampling a good amount of cake. (The best part of weddings, in our opinion.)
But more and more brides are straying from a traditional wedding cake in favor of more updated option.
Spring.St recently attended this year's New York magazine Wedding Event in search of the most unique wedding cake alternatives, and we were not disappointed.
Here's a sampling of the deliciousness that we saw (and ate):
Donuts
Donut tower, anyone?
Underwest Donuts is a coffee shop and bakery in New York City that provides brides and grooms with towering piles of donuts guaranteed to make their day delectable.
Munchies
Why not embrace your inner child on your wedding day?
Companies like Mitchmallows (artisanal marshmallows) and Treathouse (custom Rice Krispie treat creations) can help you do just that.
An ice-cream cake
Ample Hills Creamery creates ice-cream masterpieces that are perfect for a summer wedding.
A tea party
Small plates of beautiful bakery creations from The Awkward Scone will delight and surprise your guests.
A crystal cake
We are fairly certain a more beautiful cake does not exist. Bless you, Sugar Monster.
A literal cheese cake
Yes—this cake from Murray's is literally a tower of cheese; for all you savory treat lovers.
A flower cake
Not only is this cake absurdly picturesque, it's also handcrafted with love by the bakers at Rice and Flower. One cake alone can take six hours to decorate.
Let them eat cake.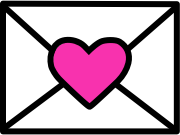 Sign up to receive
instant happy in your
mailbox every day.