From 'Macarena' to 'Waterfalls', These Songs Defined Summer in the 90s
With every passing summer comes a song that defines it, a song that from this point on whenever you hear it, you're taken back to the summer it was most popular.
While we patiently wait to see what song will define Summer 2017,
We compiled the songs that stayed on the top of the Billboard Hot 100 Charts during the summer weeks of each year in the 1990s.
Let's take a look back at the songs that defined the decade's summers.
1990
'Vision of Love' by Mariah Carey
1991
'Rush Rush', Paula Abdul
1992
'Baby Got Back' by Sir Mix-A-Lot

1993
'That's The Way Love Goes' by Janet Jackson

1994
'I Swear' by All-4-One

1995
'Waterfalls' by TLC
1996
'Macarena' by Los Del Roi
1997
'I'll Be Missing You' by Puff Daddy and Faith Evans
1998
'The Boy Is Mine' by Brandy & Monica

1999
'Genie in a Bottle' by Christina Aguilera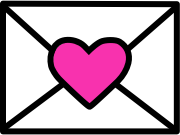 Sign up to receive
instant happy in your
mailbox every day.